The history of gaelic games in this parish far predates the formation of the GAA. Gaelic football has its roots in the ancient game of Caid (which is still the term for football in Corca Dhuibhne) and many varieties of it existed across the island until the game was codified in 1884. "Sports Flashes", writing a column entitled "They followed the sun" in the Longford Leader in 1952, gave a response to many readers' opinion that the British developed Rugby from the old "Irish Hayball" game played from "line to line with all the reckless abandon of men in full war paint". He gave a brief account of a match between teams from Drumlish and Killoe. His informant told him that a meeting took place near Dunleavy's Fort in Oghill. The "hefty fleet football braves disputed the territory from Bawn to Ennybegs", After eight hours "play" they called it a day. The informant laughed when asked about the referee. "That was the time men were men. Their game might not compare with the glamourised commercialised Gaelic of today, but one thing is certain, they kept the spirit of the Gael alive against terrific foreign influences". 
The Schools' Collection of the 1930s also gives us an insight as to what these games looked like. We learn about local teams such as the Brocklagh "Fusiliers" and the Derryheelan and Kilmahon "Sleeve-Waistcoats" Football was played on Gaigue Hill in a field called "The Coarse Corner". They would play with any number on each side, without a referee, and they hurt each other quite frequently. Kilmahon's Patrick Brady heard from Peter Mallon that there were no rules and the men kicked each other. Football was also played on Lettergeeragh Hill. They built up stones for goal posts. This was in the 1870s. Tommy O'Connor from Gaigue recollected that they put four posts at each end of the field. The two posts in the middle were for goals and the ones on the sides were for points (similar to modern Australian Rules). If the ball was kicked through the goals higher than a man's reach it did not count. There was one in the goals, six backs, six forwards, three centrefield men and a man going through the field everywhere. There was also a football field in Kiltycreevagh called "Parkico". 
Although the GAA was famously formed in Thurles in 1884, the first club in the parish, Drumlish Robert Emmets, was not formed until 1889. The first annual county convention was held on 6 October 1890 and in attendance from Drumlish Robert Emmets were Francis Sheridan and John Kellegher. A new club "Ballinamuck '98s" had two delegates, Bernard Reilly and Michael Lennon. Mostrim native, Fr. Matthew McCabe, who was a curate in Ballinamuck, wrote the following letter which was read out: "Dear Sir – The young men around Ballinamuck are anxious to establish a branch of the GAA in this side of the parish of Drumlish. I beg to say the clergy have sanctioned this project on the understanding that the officials of the new club be parishioners, and belong to a family possessing a card of membership with the National League".  
President JP Farrell said he thought they ought to be affiliated. Mr. Sheridan said the Drumlish club had no objection. The club was then affiliated under the name of "Ballinamuck Ninety-Eights". The lack of animosity was in contrast to the situation with competing clubs in many parishes across the county. The '98s had their first match at the Drumlish Tournament on 19 October against Gortletteragh Michael Dwyers. "They had glorious traditions to incite them to victory – the stand of their fathers on the hillside for freedom's cause, and then the fight of the present day. Although these are only friendly matches in which there is no anger, and these glorious traditions are not to be remembered except against the common foe, yet the memories of such events have instilled into the youthful '98's a spirit of no surrender against any opponent". This was the best contested match of the day. After Dwyers scored a point Dan Murtagh sent a ball into their territory which was held by Michael Lennon, JA Griffith and Peter Hogan. Exciting play followed when the ball was driven to the side rope and James Kerrigan of the '98s sent it flying into play again. This advantage was taken up by J. Larkin and Peter Hogan, who scored a goal, and they were ably backed by Michael McCarthy, F. Reilly and P. Gray. They then scored a disputed point. The whole proceedings passed off quietly. The teams lined up at three minutes past five o'clock. There was no score in the second half when '98s were winning 1-0 to 0-1. It was called off early, owing to darkness. 
In 1891, the Ballinamuck '98s' delegates to the Longford Council were Patrick Brady and Michael Lennon, Brady having taken over from Bernard Reilly the previous year. Ballinamuck Ninety-Eights had fifty members. Michael Lennon was captain, John Duignan was treasurer and Bernard Reilly was secretary. After the conclusion of the 1891 season both the Drumlish and Ballinamuck clubs faded away, along with many others. Central Council indicated that political differences had caused the disbanding of a very large number of clubs across Ireland.   
The '98s reappear in April 1906. Drumlish Robert Emmets were now known as Drumlish Wolfe Tones and were drawn against Eslin in the Gortletteragh Tournament on 26 August. It looks as if Drumlish withdrew, but Ballinamuck, who had not been scheduled, played against Cloone O'Connells. Ballinamuck won, 0-1 to nil, when James Breslin availed of a miss by one of the Cloone players to kick a point late on. On 27 October, it was announced that Drumlish and Ballinamuck had amalgamated to form "Drumlish and Ballinamuck '98s". The following is the first known published team listing of a team from the parish: Harry Quinn (Captain), Michael McCusker, Joseph Casey, Thomas O'Hara, John Kiernan, James Devine, Daniel Walpole, John Whitney, Patrick Connor, Patrick Gill, William Dolan, Michael Lennon, John Sorohan, Edward Corrigan, James Gill, Felix McKenna, Francy Hughes, John Joseph O'Neill, Patrick Dolan, Francis Furey. It is interesting to note that the club was formed with the intention of establishing a Total Abstinence Association in connection with it. This team became the first from the parish to reach the senior county final but lost out to Killoe after a replay in July 1907. Prior to that match we see reference to the "Lower Gaigue Wolfe Tones" playing a challenge match against the junior Ballinamuck '98s. It is not possible to know if these were separate clubs, junior sections of the parish club or simply a group of neighbours and friends who came together for an unofficial game. 
The GAA in Longford again went into a lull, and it was not until 1911 do we see a team from the parish. The Drumlish and Ballinamuck '98s, far from being a temporary arrangement in 1907, were still together at this time. This is evident from the names on the teamsheets. They were again beaten by Killoe, this time in the semi-final in November, 0-1 to 0-0. Handball was also popular in the area and the Ballinamuck Tournament ran a competition in June for a set of medals at the Ballinamuck ball alley, which was located at the RIC barracks. The alley fell into disrepair and a committee was set up in 1920 to restore it. John Byrne, Ballinamuck Post Office, was a major driving force behind the game. Unfortunately, the restoration did not materialise, and another effort was made in 1926 to restore it, which did occur thanks to Denis Bohan. However, a great storm broke all over the country on 11 November of that year and it destroyed the front wall of the alley. It was never restored. Guard Leamy from Tipperary, Guard James McHale from Mayo and Mick McQuade were noted handballers in the area. In September 1912 the "Drumlish and Ballinamuck club" decided to hold a tournament for a silver cup and set of medals. The home side were due to meet Clonguish in the final of this, but no result could be found. The Drumlish and Ballinamuck '98s again qualified for a tournament final against Clonguish on 27 April 1913 but no result of this could be located either.  
The GAA again faded away in the parish and both clubs went their separate ways, as in 1916, Ballinamuck Republicans are formed with Patrick Gill as captain, Michael Donnelly as treasurer and JJ Brady as secretary. This team was nicknamed "the Rebels". At some stage in 1918 this club becomes "Ballinamuck Sons of Emmet", and they partake in the famous "Gaelic Sunday" of 4 August 1918, against Dromard, where GAA clubs the length and breadth of the country defied the British establishment by playing gaelic games at the same time. The club is later renamed Ballinamuck '98s again and they reached the junior championship final, which was played on 25 January 1920. Ballinamuck were beaten by Edgeworthstown but objected and on 3 April won the replay, 1-2 to 1-1. John Reynolds (RIP) of Cammagh remembered this match clearly. Edgeworthstown were leading by two points with time almost up and one of their main players, Parker, had the ball in front of goals, surrounded by defenders. Paddy Gill was behind him and started shouting "Out to me! Out to me!" and he passed it back to Gill who booted the ball down the field and '98s scored the winning goal! He listed the team as follows: Eddie Corrigan, Paddy McQuade, Mick McQuade, Pat O'Toole, the three Sorohan brothers, Jimmy McWade, "Farrier" Lennon, John McVeigh, Phil Reilly, Paddy Gill, Bernie McKenna, William McKenna and Johnny Reilly. In recent years there has been some debate about whether this was a championship or some form of league competition. The winners' medal, procured and inscribed by the county board of the day, is clear: "Longford 1919 Jn C'Ship". This, along with the fact they competed at senior championship level the following year, leaves no doubt that this was the first championship title to come to the parish. The County Board bye-laws of the time stated that the winners of the "junior championship shall take part in the succeeding senior championship". That following year, the '98s won a first senior county championship for the parish. It is interesting to note that a bye-law existed at the time which permitted players from junior clubs, who had finished their championship, to line out with senior clubs in the senior championship, but only where they were in the same parish. This is how players from Drumlish, then junior club, lined out with the Ballinamuck '98s and why Kit Halpin and people of that generation referred to Ballinamuck '98s as the "parish team". The Longford Leader believed that "Longford has never before in the long history of football produced a team even nearly as good" and that the best performers for the '98s on the day were "Reilly, McKenna, Dolan and Gill". They defeated Longford Wanderers, 1-4 to nil. Wanderers did gain a measure of revenge by beating the '98s in the senior league finals of 1922 and 1923 (the latter was not played until September 1925). Unfortunately for the great Ballinamuck team, the War of Independence and subsequent Civil War all but finished serious competition in Longford with no senior championship completed until 1927 when incredibly, Drumlish emerged victorious against Ballinamuck '98s in the final (this was a unique pairing as it was the first, and to this day only time, two clubs from the same parish met in a Longford senior championship final).  
At the end of 1926 the two teams briefly came together to form "Drumlish and Ballinamuck United" to play Longford Wanderers in a benefit match for the County Board on 14 November in Ballinalee. It was postponed as Wanderers could not travel and re-fixed for 5 December. There was no report of this encounter and the unification fell through. During this time, Ballinamuck '98s wore a tricolour kit. Players mentioned by John Reynolds and John McVeigh (RIP) as having played for Ballinamuck during the successful era of the early 1920s include: John Sorohan, Dan Sorohan, Charlie Sorohan, John McVeigh, Hugh McVeigh, Frank McVeigh, Paddy Corrigan, John Reynolds, Terry Reynolds, Harry Flaherty (Clonbroney), Michael McNerney, Mick O'Toole, James O'Toole, Paddy Gill, Patrick McKenna, Bernie McKenna, James McWade, Paddy McQuade, John Reilly, John F. Lenehan, Peter Creegan, Peter Furey and Patrick McLoughlin. After the 1927 county final defeat, Ballinamuck '98s did not affiliate again until 1933.  
On 4 June 1933 in the junior championship, Ballinamuck '98s returned to the fold and made history in their match against Dromard. Sonny Brennan kicked the first score in the "New Grounds" with a goal. "How the ghosts of the murdered dead must have stirred and it surely was fitting that the '98s should have opened the scoring, and with a goal, too, as if to emphasise the fact that the Gaelic goal was almost reached and that one more blow had been struck at the seóiníní". Dromard won, 0-5 to 1-1. The club faded away again for a time and then on 8 March 1937 they formally reorganised with James McWade as chairman, Peter Creegan as vice-chairman, JJ Feehily as secretary and Michael Reynolds and Sonny Brennan as treasurers. JJ Feehily was club captain. The following year, they won the junior championship after a replay against Mostrim, 2-7 to 1-1. One end of the field was a veritable quagmire rendering good football out of the question. Tommie Reilly was the only noted scorer with a goal from a forty-yard free. The panel included: Paddy and Bernie Corrigan, Jack McConkey, Francis Duignan, Tommie Reilly, Cassidy, Forde, Reynolds, Frank McNerney, Brendan Morris, Bernie Lennon, Tommy Feehily, Sorohan, Eugene "Stevie" O'Reilly, James Hagan, John Mimnagh, Peter McGee, Sonny Brennan, Willie Lambert and Nailie Courtney.  
At the beginning of 1939 it was reported that there would be a "fusion of forces" between Drumlish and Ballinamuck '98s. However, this did not materialise as Drumlish appeared solely by themselves that year, while the '98s faded away until 1943. That year they reached the junior league final but lost to Newtowncashel by two points on 20 June. The players were: Thomas Corrigan, Bernie Lennon, Tommie Reilly, Packie Gunshinan, Red Mick Cassidy, Willie Cooke, Nailie Courtney, James Hagan, Paddy Mel Connor, Sean Sorohan, Mickey Connolly, Eddie Joe Cooke, Dominic Greene, Mikie Brady, Paddy Joe Mulligan, Mick Quinn, Thomas Connolly, Frank Lenehan and J McLoughlin. The '98s continued to play but met with little success. They reached the junior league final in 1947, only to lose again, this time to Clonguish, 0-7 to 0-5. The players were: Sean Lenehan, Red Mick Cassidy, Tom Cassidy, Patrick Cassidy, "Big" Charlie Sorohan, Jim Sorohan, Packie Gunshinan, John Joe Brady, Dominic Greene, Bernie Lennon, Willie Cooke, Tom O'Connor, James Hagan, Pat Kiernan, Terry McKenna, Packie Gorman, Paddy Joe Mulligan, Michael Reynolds and Tommy Whitney. Club great and current Fr. Manning Gaels president, Packie Gorman, remembers this time clearly. He recalls the '98 club wearing a blue jersey with a gold hoop which had "Ninety Eights" emblazoned on the front. This was the same jersey worn before he started playing. The switch from the tricolour jersey of the 1920s occurred before his time. The '98s played on many different fields during their existence, some of which include James Reynolds' Field, "The Long Meadow" in Cammagh, and Thomas McKenna's Field in Shanmullagh. The Battlefield was used in the early years for tournaments. In the 1930s and '40s the Ballinamuck '98s played in Bernard Prunty's field in Fardromin. Barney Gorman described it as a "long flat field with good drainage and especially suited to games like (football)" in the Fardromin N.S Commemorative Book. Barney said the club often held dances in Prunty's Barn to raise funds. 
Ballinamuck '98s formally dissolved at the end of the 1949 season. Packie remembers this difficult decision being made due to a lack of numbers in the club. There were various reasons for this and unsurprisingly, emigration was the main one. In 1950, Drumlish were the sole club in the parish and became Drumlish Young Irelands in 1951 and went on to win three championships and a senior league that decade, under the stewardship of Fr. Seán Manning, who was curate in the parish from 1948 until 1954. The club officially affiliated as Éire Óg in 1961 but had been known as this from the early '50s (as evidenced from medal inscriptions from that time). They lost the senior county finals of 1961 and 1966. In 1959 a Ballinamuck camogie club was set up and this existed until 1963. There was previously a Drumlish camogie club from 1936 until 1938. The following played with the Ballinamuck team at various points: Mary Kate O'Neill, Rose Marie Lennon, Anna May Reilly, Moira Davis, Margaret Chidgey, Monica Cunningham, Peggy Cunningham, Rosaleen Connolly, Nuala Connolly, Rosaleen Trainor, Mary Donnelly, Mary McNally, Elizabeth Ross, Winnie McGoldrick, Anna Donnelly, Annette Donnelly, Lily Donnelly, Ellen McKenna, Teresa McKenna, Rita Harte, Ellie McDonagh, Catherine Reynolds, Teresa Meagher, Philomena McCormack, Ann Flavin, Teresa Donohoe,  Josie McDonagh, Anna May Rehill,  Alice Kiernan, Mary Doris,  Philomena Larkin and Elizabeth Rehill. 
In 1967, "Ballinamuck GFC" formed out of Éire Óg and played in the junior league and championship for two full seasons. This club was unrelated to the Ballinamuck '98s club of the past, which had wound up permanently in 1949. Barney Gorman remembers playing their matches in Tom Reilly's field in Shanmullagh and they wore a maroon and white kit. In March 1969, the Éire Óg club re-united when Ballinamuck GFC members returned to the club, and they affiliated under the new name of Fr. Manning Gaels which the club of this parish bears to this day. In April 1970, what would become "Ballinamuck Drumlish Ladies Football Club" elected the following: President: Mrs Winnie Mulligan, Vice-President: Pauline Quinn, Secretary: Margaret McCormack, Treasurer: Ann Mimnagh. They played a number of tournaments but appeared to fade away at the end of the year. ln January 1981 Éire Óg ladies formed in Drumlish National School. The committee was: Chairperson: Von Kellegher, Secretary: Marian Hannify, Treasurer: Bridie Reilly, PRO: Breda Kellegher and Team Trainer: Liam Forde. This is what would become the St. Helens club which represents the parish today. 
A special word of thanks to Packie Gorman, Michael Brady (Mill), Michael Lennon, Pat Donnelly, Barney Gorman, Sean Murphy, Pat Joe McLoughlin, Mary Kate Gallagher, Paddy McWade (RIP), Pat Flynn (RIP), Terry McKenna (RIP), Arnold Meagher, Eamon McNerney, Liam Forde, David Cassidy and David Hannify who helped make the above, brief history of the Ballinamuck '98s possible. Cite this website if using the above information. Many years of independent research has gone into this by members of the club past and present.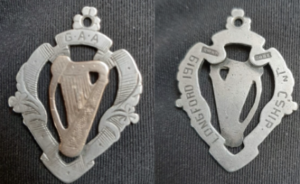 Jimmy McWade's 1919 junior championship medal. 

1922 Carrigallen Gaelic League tournament and 1920 senior championship medals.